In today's digital age, having a website is no longer just an option but a necessity for any business or individual looking to establish their online presence. A website serves as a platform for people to learn about your brand, products, or services, and ultimately, it can help you reach a wider audience and increase your bottom line.
If you're just starting your website development journey, there are several key things you need to consider to create a successful website. In this blog post, we'll take you through the basics of website development, from the planning phase to launching your website.
1. Planning Your Website
Before you start building your website, it's important to take some time to plan out your site's structure, content, and design. Here are a few key things you should consider during the planning phase:
Define your website's purpose: What do you want your website to achieve? Are you trying to sell products or services, provide information, or simply establish your brand's online presence?
Identify your target audience: Who is your website for? What are their needs and interests?
Create a site map: A site map is a visual representation of your website's structure, showing the hierarchy of pages and how they are connected.
Write your content: Think about what information your audience will be looking for and what message you want to convey. Develop your content based on these factors.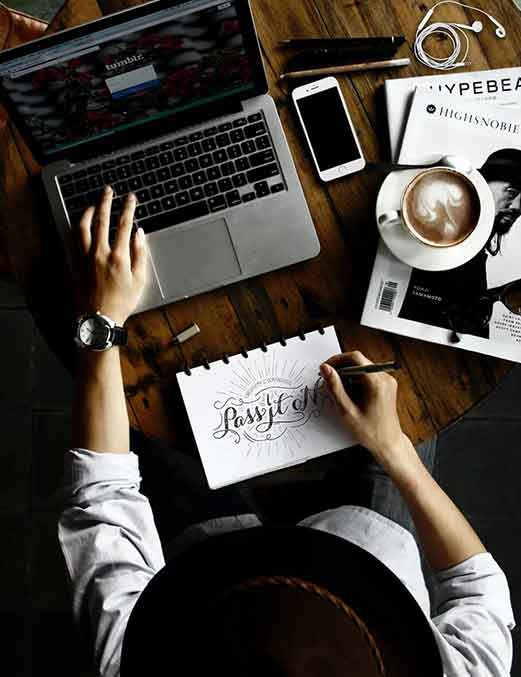 We can help you with your digital marketing campaigns.
Advertising: Run ads that get the right results.
Social Media: From strategy to execution, we do it all.
Websites: Create beautiful responsive sites.
SEO: Get traffic on your site.
2. Choosing Your Website Platform
There are many different website platforms available, each with their own set of pros and cons. Here are some of the most popular website platforms:
WordPress: WordPress is a popular content management system (CMS) that allows users to create and manage websites easily. It offers a wide range of templates and plugins, making it a great choice for beginners.
Wix: Wix is a website builder that offers a drag-and-drop interface, making it easy to create a professional-looking website without any coding knowledge.
3. Designing Your Website
Your website's design plays a critical role in attracting and retaining visitors. Here are a few tips for designing a visually appealing website:
Choose a color scheme: Pick a color scheme that reflects your brand and use it consistently throughout your website.
Use high-quality images: Images can make or break a website's design, so choose high-quality images that are relevant to your content.
Keep it simple: Avoid cluttering your website with too much text or too many images. Keep your design clean and simple to make it easy for visitors to navigate.
4. Developing Your Website
Once you have your website plan, platform, and design in place, it's time to start developing your website. Here are a few key things to keep in mind during the development process:
Use responsive design: With more and more people accessing websites from mobile devices, it's important to ensure that your website is responsive and can be easily viewed on any screen size.
Optimize for search engines: To ensure your website can be easily found by search engines (normally known as SEO), you should optimize your website's content and meta tags for relevant keywords.
Test your website: Before launching your website, it's important to test it thoroughly to ensure that it works as expected and there are no errors.
5. Launching Your Website
Once you've completed the development phase and tested your website, it's time to launch it to the world. Here are a few tips for launching your website successfully:
Make sure your website is ready: Ensure that your website is complete and ready for visitors before you launch it.
Announce your launch: Let your audience know that your website is live. Share the news on social media, email your subscribers, and consider running a launch promotion to encourage people to visit your site.
Monitor your website's performance: Once your website is live, it's important to monitor its performance to ensure that it's meeting your goals. Use tools like Google Analytics to track traffic, user behavior, and other metrics that can help you improve your site over time.
6. Maintaining Your Website
Building a website is just the first step. To ensure that your website continues to meet your goals and provide value to your audience, it's important to maintain it regularly. Here are a few things you should do to keep your website running smoothly:
Update your content: Keep your website fresh and relevant by regularly adding new content and updating existing content.
Test your website regularly: Check your website regularly to ensure that it's working correctly and there are no errors.
Backup your website: Make regular backups of your website to ensure that you can restore it if anything goes wrong.
Conclusion
Building a website may seem daunting, but with the right approach, it can be a relatively straightforward process. By following the steps outlined in this article, you can create a website that meets your goals, attracts visitors, and helps you establish your online presence. Remember, building a website is just the first step. To ensure its success, it's important to maintain it regularly and make updates as needed. With the right approach and commitment, your website can be a valuable tool for your business or personal brand for years to come. Or if you think that creating a website is a difficult task, read our blog post on website companies to find out what value they can add to the overall process for your business.