A social media marketing strategy is a plan of action that helps you execute your social media marketing campaigns. It can be as simple as posting on social media networks or as complex as a multi-channel, multi-touchpoint campaign. Every company has its own needs and goals and therefore, every company needs to create its own unique strategy.
Stage 1: Define Your Goals
The first stage of the process is to define your goals. This can be done by answering these questions:
What do you want to achieve by setting goals?
What are you currently doing with your social media?
Which social media platforms are you using?
What are your current marketing strategies?
Do you have a strategy in place for each platform or do you just post when you feel like it?
How much time do you spend on each platform on a weekly basis?
How many followers do you have on each platform and what is the growth rate per month for each one of them?
What are the potential impacts of the current strategy?
What are our opportunities and challenges in this area, and how can they be addressed?
The answers to these questions will help give a clearer picture of what needs to be done. It will also help find any gaps in the current strategy, which can then be filled. and provided with specific directions in order to reach the next level of success.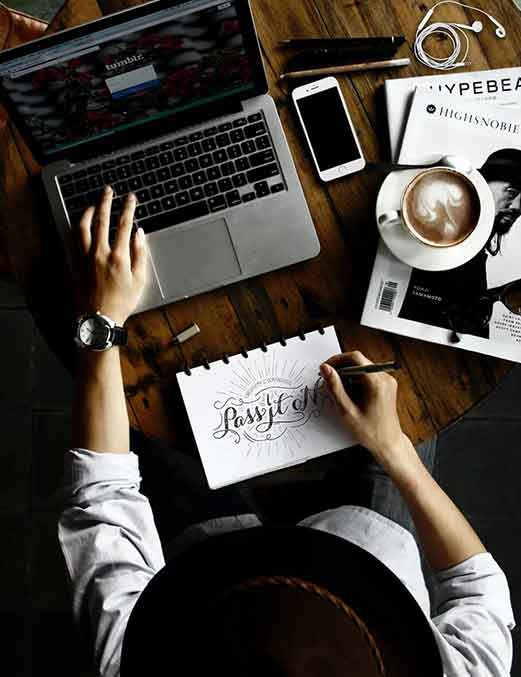 We can help you with your digital marketing campaigns.
Advertising: Run ads that get the right results.
Social Media: From strategy to execution, we do it all.
Websites: Create beautiful responsive sites.
SEO: Get traffic on your site.
Stage 2: Audience Research & Data Analysis
Audience research is a crucial step in the process of content creation. It helps you understand your target audience and their needs, as well as how they interact with your brand or product. You can use different techniques to gather information about them, such as surveys, interviews, focus groups, or online communities. Data analysis techniques are used to find patterns in the data collected from your audience research, which will give you an insight into what they like and dislike about your product or service. Here are some ways you can do audience research for your brand on digital media:
Social Media Analysis – Using the Facebook audience insights tool
Keyword research – Find out exactly what people search for in your industry via the Google keyword planner
Online Surveys – Conducting small sets of questions and sharing them in the circle of potential customers can help you get a better insight.
Experiments – The best thing to do is to experiment with your ideas related to creatives, audiences, and landing pages to find out exactly what makes your audience tick.
Stage 3: Content Development and Publishing
Content development is a process that requires skillsets like creativity, research, and analytical thinking. It is important to know the content that your target audience wants to consume.
Identify your target audience and what they are interested in:
Create an editorial calendar of topics for your brand:
Research content that has been successful for other brands in your industry:
Experiment with different types of content:
Share content and measure engagement.
Possible types of social media posts include:
A funny video from BuzzFeed
A quote from one of your favorite authors
An article about your product or service
Something helpful that your audience would like to read and share
The next stage in the content marketing funnel is publishing content. This stage comes after the development of the content itself and it involves making sure that it reaches your target audience. This stage can be done in a few different ways:
Through a blog post, podcast, or social media post.
Through the production of infographics and videos for sharing online.
By distributing your content through various other marketing channels like press releases or newsletters etc.
Stage 4: Promotion and Marketing Techniques
Promotion and marketing is the most important stage in the content marketing process. It is also the stage that is often neglected or forgotten. The goal of promotion and marketing is to increase awareness of your content, drive traffic to your website, and increase conversions.
The most popular methods for promotion are social media ads, paid search engine advertising, email, SEO, video marketing, and PR.
Stage 5: Measurement and Analytics of Your Activities & Campaigns
We need to measure our digital marketing data in order to do an analysis of it. There are many ways that we can measure our social media data and digital advertising data.
The first way is by using Google Analytics. We can use this tool to see how many people have visited our website, what they did on the website, and how long they spent on the website. The second way is by using Facebook Insights. This tool will tell us how many people are viewing our Facebook posts, which posts are the most popular, and which posts got the most engagement from viewers. The third way is by using Twitter Analytics. This tool will tell us how many people were reached by our tweets, which tweets had the most impressions, and who retweeted or liked our tweets the most often.
So there you have it, the 5 key components of a social media marketing strategy. Want to set up a meeting: https://calendly.com/fwddigi/30min